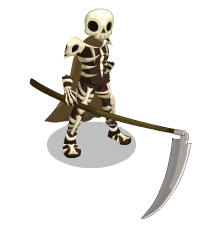 "A great being has taken material form to discuss the massacre you've performed. He demands payment, and offers a compelling amount of power in return. Perhaps you should do what he says."
| Base Cost | Base DPS | Personal Upgrade Bonus | Global DPS Upgrade Bonus | Click Damage From DPS Upgrade |
| --- | --- | --- | --- | --- |
| 3.200e14 | 1.310e11 | 1,039.0625% | 0% | 0% |
Upgrades
| Upgrade | Icon | Unlocks | Effect | Description | Cost |
| --- | --- | --- | --- | --- | --- |
| Rise of the Dead | | Lvl 10 | Increases Abaddon's DPS by 125%. | Abaddon can raise the corpses of the fallen, to fight by your side. | 3.200e15  |
| Curse of the Dark God | | Lvl 25 | Increases Abaddon's DPS by 125%. | "To call this a 'Curse' is a misnomer, mortal. This power is a blessing." | 8.000e15  |
| Epidemic Evil | | Lvl 50 | Increases Abaddon's DPS by 125%. | "The powers of darkness breed more powers," he says. Abaddon is kind of scary. | 3.200e16  |
| The Dark Ritual | | Lvl 75 | Unlocks the The Dark Ritual skill. | The ground beneath Abaddon glows with runes. He beckons for you to help him with his final ritual. | 2.560e17  |
Skill
| Skill Name | Icon | Description | Hotkey | Base Cooldown |
| --- | --- | --- | --- | --- |
| The Dark Ritual | | Multiply your current DPS by 1.05 for the duration of your world. | 6 | 8 hrs |
Gallery
Trivia
Abaddon is the name of a place of destruction in the Hebrew bible, and as the name of the "angel of the abyss" in the New Testament.
Abaddon's Dark Ritual skill may be inspired by a curse technique used by the character Hidan from the Naruto series.
Abaddon is mentioned in Hero upgrades for Ma Zhu and Amenhotep:

Ma Zhu's upgrade Ancient Wrath: "I fear you may not be balancing the powers of the Gods," Ma Zhu tells you, hinting at this upgrade. "Abaddon is a dangerous one".
Amenhotep's Genesis Upgrade: "Foolish Mortal! You have let Abaddon grow too powerful," He scolds you. "We must undo what has been done! It will take time. Do not let Abaddon know"

The Ancient Morgulis's description shows Abaddon speaking to the player about death: Approaching the monument, you begin to feel as if killing monsters is a natural thing in life. It is as necessary as breathing, and eating. A voice startles you from behind. "Death is good" he says. You turn around-it was Abaddon. He was following you. "Their death brings you happiness and gold. It feels good, does it not?"
The Ancient Kumawakamaru's description mentions Abaddon as well: A darkness radiates from the monument, causing many things to become difficult to see. You catch a brief glimpse of movement nearby... Was that Abaddon? Upgrading this ancient will allow you to sneak past monsters when exploring.
Ad blocker interference detected!
Wikia is a free-to-use site that makes money from advertising. We have a modified experience for viewers using ad blockers

Wikia is not accessible if you've made further modifications. Remove the custom ad blocker rule(s) and the page will load as expected.