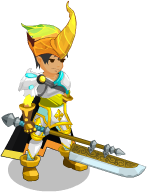 "He stares at you with a smug, knowing look. Perhaps you don't know why you're here, or what you're really doing, but the Gods have taken a definite interest. Why they demand so much money, though, is astounding... "
| Base Cost | Base DPS | Personal Upgrade Bonus | Global DPS Upgrade Bonus | Click Damage From DPS Upgrade |
| --- | --- | --- | --- | --- |
| 2.400e16 | 5.335e12 | 100% | 44% | 0% |
Upgrades
| Upgrade | Icon | Unlocks | Effect | Description | Cost |
| --- | --- | --- | --- | --- | --- |
| Smite | | Lvl 10 | Increases Amenhotep's DPS by 100%. | "I am here to help you, mortal. Grant me this power and you will be rewarded with the loot of many corpses." | 2.400e17  |
| Genesis Research | | Lvl 25 | Increases DPS of all heroes by 20%. | "Foolish mortal! You have let Abaddon grow too powerful," he scolds you. "We must undo what has been done! It will take time. Do not let Abaddon know." | 6.000e17  |
| Prepare the Rebeginning | | Lvl 50 | Increases DPS of all heroes by 20%. | With a terrifying rumble, the ground and the skies ripple. Amenhotep glows brilliantly with power as he prepares the final act. | 2.400e18  |
| ASCENSION | | Lvl 150 | Amenhotep creates a new universe, much like the current one. This will restart your game and you will receive X hero souls. | Glowing bright magma chasms open up in the distance as Amenhotep prepares the incantation that will destroy this universe. "Whenever you're ready," he says, with arms crossed, tapping his foot. | 1.920e19  |
Gallery
Notes
Amenhotep was initially the final hero available. All heroes afterwards were added in later patches.
In the initial version of the game (version .01), Amenhotep did only 1 damage per second, regardless of the upgrades. This was fixed on version .02, released barely a week later.
Trivia
Amenhotep is the name of four different pharaohs that reigned in Egypt, the most well known being Akhenaten née Amenhotep IV, the father of Tutankhamun.
As of v0.26, Prepare the Rebeginning is also known as Prepare for Restarting.
Ad blocker interference detected!
Wikia is a free-to-use site that makes money from advertising. We have a modified experience for viewers using ad blockers

Wikia is not accessible if you've made further modifications. Remove the custom ad blocker rule(s) and the page will load as expected.