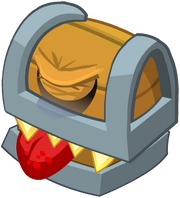 Treasure chests are a rare mob that can appear in any non-boss level. They drop 10 times more

Gold than a normal mob does, although some ancients can improve this. The default spawn rate for treasure chests is 1% (1 out of 100 mobs).
Dora makes them appear more often. At the limit, treasure chests will always appear, except for every 5 levels, and Relic oozes.
Mimzee increases how much gold they give out, starting with a +50% boost. This can be increased without end, and will eventually make treasure chests the source of income for any player, rendering all normal monsters useless in terms of earning Gold.
Achievements
Achievement Name
Icon
Description
Treasure Hunter
Open 10,000 treasure chests
Swiggity swooty...
Ad blocker interference detected!
Wikia is a free-to-use site that makes money from advertising. We have a modified experience for viewers using ad blockers

Wikia is not accessible if you've made further modifications. Remove the custom ad blocker rule(s) and the page will load as expected.