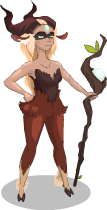 "Withal she appears.
Is Xavira more human.
Or is she more deer."
| Base Cost | Base DPS | Personal Upgrade Bonus | Global DPS Upgrade Bonus | Click Damage From DPS Upgrade |
| --- | --- | --- | --- | --- |
| 1.000e14000 | 3.954e11681 | 1e3667% | 0% | 0% |
Upgrades
Upgrade
Icon
Unlocks
Effect
Description
Cost
Ironwood Staff

Lvl 150000
Increases Xavira's DPS by 1e625%.
Skogur is impressed
Fourteen thousand Newtons on
Janka Hardness Scale
8.000e14002 
The Enchantress

Lvl 185000
Increases Xavira's DPS by 1e650%.
She may have the gift
To beguile what you perceive
Maybe we should flee
8.000e14002 
Full Bloom

Lvl 255000
Increases Xavira's DPS by 1e675%.
Spores fill your nostrils
Would trade ruby or three for
Antihistamine
8.000e14002 
Formidable Frolicking

Lvl 290000
Increases Xavira's DPS by 1e850%.
Boundlessly leaping
Who would have thought that such grace
Would be murderous
8.000e14002 
Snaring Bramble

Lvl 336000
Increases Xavira's DPS by 1e875%.
Ensnared in her net
You comply to give her gold
For more DPS
8.000e14002 
Gallery
Notes
Instead of a 4x damage multiplier every 25 levels, Xavira gets a 4.5x damage multiplier.
Trivia
Xavira's description and her upgrades are all written in a haiku format.